Private & Group Retreats in Sedona, Arizona and Annually in Switzerland
Personalization is our speciality!

Come to Sedona for Transformation!
Do you need to reset your life? Have you experienced some life changing events recently and need more self-care? Are you looking for holistic guidance? Or do you want to connect with Mother Nature on a deeper level?
In collaboration with Sedona Infinity Spa & Wellness Center, SpiritFlow Sedona is offering several different types of retreats: Spiritual, Healing and Nature – both Private and the more affordable Group Retreats. But, no matter which option you choose, we are certain that you will feel the personal touch. Our intention is to offer small groups, individuals and couples life-changing experiences.
Each Retreat integrates new-edge science and ancient wisdom. The focus will be on the practical application of this knowledge in your life. We will use techniques such as meditation, breathwork, meditative practices, Chakracises, spiritual counseling, life coaching, energy healing, Reiki, Brennan Healing Science, crystal bowl sound therapy, Himalayan singing bowl sound healing, Labyrinths, rituals, ceremony, essential oils, plant medicine,  and extra sensory perception exercises to help you connect into the consciousness of different aspects of your energy field, whether for healing or empowerment. We will look at the importance of self-care from a holistic perspective and what that means for each energy center and your life as a whole.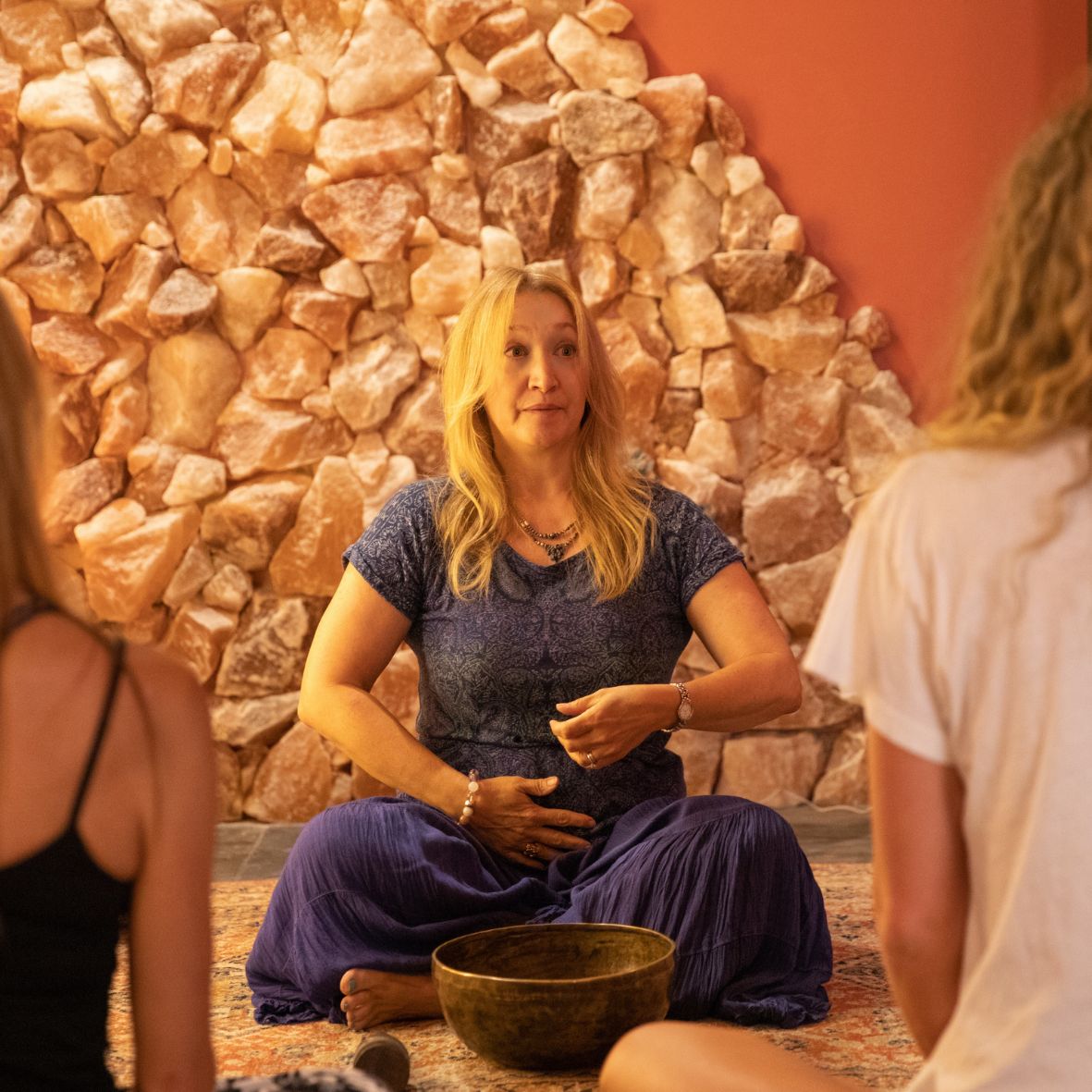 Join our Team in Sedona or in Switzerland for a fully personalized Private Retreat or Sacred Sedona Group Retreat
Join us and raise your Vibration!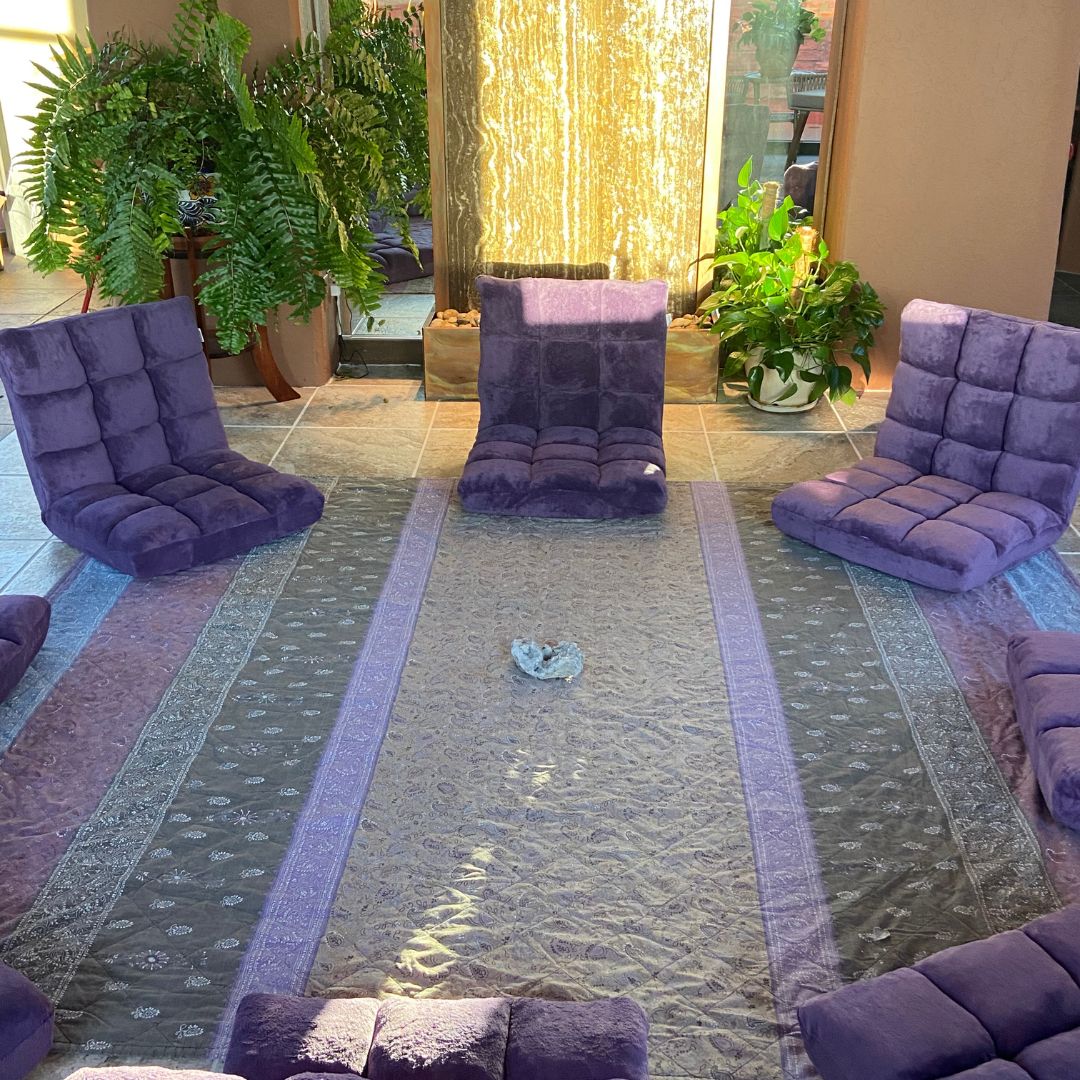 Location
Our beautiful Retreat Center – Oasis in Sedona – and Spa & Wellness Center – Sedona Infinity Spa – are both located on our 2nd Floor Deck dedicated to Wellness at The Collective Sedona, 7000 SR 179, Sedona, AZ 86351 and enjoy a direct view of Bell Rock, Courthouse Butte and Castle Rock.
Lodging
Our retreats normally do not include lodging, so that you may choose your level of comfort and price from the Hilton Sedona Resort at Bell Rock right next to us to one of the many AirBnBs available all around us. Our staff will be happy to help you decide on your accommodation.
Food
If there is an evening start and opening ceremony for the retreat, we will provide some snacks and drinks. For each day, you are expected to either bring a picnic lunch or if we will be at The Collective Sedona before or after lunch you can easily have lunch at one of the more than 4 restaurants onsite. Some retreats will include freshly prepared morning juices.
Transportation
Participants flying into Phoenix will need 1 hour and 45 minutes to reach us. You will need a car in Sedona. There is a very reliable airport transfer service called Groome Transportation. If participants in a group retreat are interested in sharing a rental, we can certainly put you in touch.
Booking
Private Retreats: We require a 50% deposit at the time of booking with the remainder due 45 days prior to the retreat start. If you book within these 45 days, full payment will be due at the time of booking.
Groups Retreats: Space is very limited for our retreats. Full payment will be required 45 days prior to the retreat. If the booking is made more than 45 days prior to the retreat, we require a 50% deposit with the remainder due 45 days prior to the retreat.
Cancellation Policies
 Private Retreats: Due to the personalization of our retreats, if you cancel 45 days or less before the retreat start, there will be a $25 administration fee and you will forfeit the retreat fees. If it is more than 45 days, you will forfeited your deposit, but the funds can be used for other sessions or retreats taking place within 12 months.
Group Retreats: If you cancel less than 45 days before the retreat start, you will forfeit the payments made. If you cancel your participation in a group retreat more than 45 days prior to the start date, you will forfeit your deposit, but it can be used for other sessions or retreats taking place within 12 months.
Other Group Retreat Cancellations: SpiritFlow Sedona LLC and Sedona Infinity Spa LLC reserve the right to either cancel a group retreat, and give you a full refund, or to offer you 10 hours of private one-on-one sessions with our practitioners as a replacement for the cancelled group retreat.

Start Manifesting a New Path Today!